Strategic Design Services for a Tech Driven World
We're technology agnostic and work across all screens, connected devices and machine-to-machine engagements. We dream big, but we also are realistic and actionable. We partner with you to dig deep and unearth fresh approaches to planning, designing and evolving digital experiences that go beyond functional, to become game-changers for your business.
Eliminating market uncertainty from Research to Realization !
Getting the right product shouldn't be left to chance. We help unearth the core user and business insights that lead to successful digital product roadmaps. With our user studies, we help uncover user goals, motivations & pain points and guarantee "the big idea" is actionable, scalable and user-tested. This helps eliminate market uncertainty and gives a strategic edge over your competition.
User Research and Insights
Competitive Analysis and Benchmarking
Digital Strategy and Roadmap
Customer experience design
Innovation Workshops
Contact Us
Innovation: Design + Develop Products that promote changes in user behaviour!
As your dedicated innovation partner, We strive to make it happen. Getting to the heart of a great idea can be most challenging. We address your unique vantage point with our blend of product envisioning and User experience process - bring products to light, faster, in a collaborative, cross-functional way.
Accelerated Design Sprints
Product-Market Fit Assessment
Service Design & Process Streamlining
UX / UI Design & User Testing
Building Design Systems
Contact Us
Benefit from the right choice of latest Full-Stack Technologies!
As the technology capabilities continue to expand, so does our expertise. We're technology agnostic, and build a pixel perfect experience for the customer. Design and develop the full stack applications for both enterprise or engaging consumer product leveraging best of UI frameworks, RESTful APIs, GraphQL and Microservices Architecture
Microservices Architecture
Mature front end Frameworks
Responsive Applications
Rapid front end with MVC, MVVM & MV Arch.
Our Primary Stack - React, React Native, Python, NoSQL
Contact Us
We love building awesome apps for web, tablet & mobile!
We have expertise to deliver your ideas, for web and Mobile, with Intuitive design and robust performance. If you want a quick MVP with our Low code platform and Go live in four weeks, Give us a call.
Responsive UI Development 
(HTML/CSS, Bootstrap, Angular, ReactJS)
Mobile Reactive Front ends 
(React Native, Ionic)
Develop No Code / Low code Apps 
(Bubble, Google App Builder, Zoho, BAAS)
Serverless CMS & Websites
 (GatsbyJS+Netlify)
Mobile User Experience Contact Us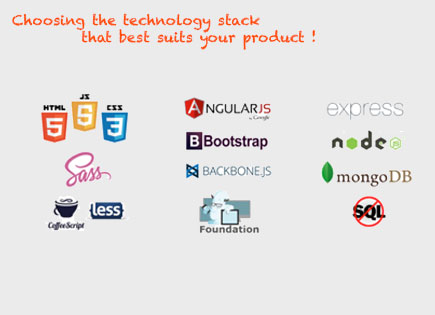 Improving the Right things to Solve for different stages, based on Analytics & Performance!
We help you gain deep insights of what users are doing in your website for continuous innovation. We help implement best practices in User behaviour analytics and design optimized User journeys and landing pages with A/B Testing, Funnel Analysis and Data crunching.
Analytics planning & implementation
Analytics monitoring and insights
Discover user intent & Uncover growth areas
Design the persuasive elements
Optimize the user Journey
KPI or goal setting and measurement